Why do companies implement vast enterprise resource planning (ERP) systems like Infor LN? After all, Infor LN implementations are well known to be expensive, difficult, and disruptive. Wouldn't it be better to just keep on doing things the way you always have? Shouldn't you spend that money on new machines or expanded manufacturing space?
As it turns out, the return on investment of an ERP system like Infor LN for your company can be higher than the investment in new machines or capacities, and that is because it is truly an investment in competitive advantage.
To be clear, I am not suggesting that every ERP or Infor LN implementation will magically drive value. Instead, the investment and mindshare necessary for an Infor LN implementation can only be justified if it improves the competitive advantage for an organization.
Before you launch an implementation or during ERP platform selection, your steering committee should determine if your enterprise software will enhance your capabilities to:
Innovate, develop, and build products faster and get them to market sooner.
Craft products at a higher quality to increase customer satisfaction, differentiate and drive new sales.
Build products cheaper to achieve higher margins and invest more capital in your organization.
Deliver accurate invoices quickly, improve cash flow and reduce outstanding accounts receivable to streamline financing and respond to markets faster.
Enhance external marketing with faster time to market, more efficient CPQ, digital marketing tools and integrations — and much more, like enabling product configurators.
Improve order to cash management and allow for greater efficiencies, higher profits, and further investment in the organization.
Communicate quickly, efficiently, and accurately with all links in the supply chain, from supplier through customer.
If your organization is purchasing and implementing Infor LN to drive competitive advantage in these areas, then managing that same system should, too. So, how does a focus on competitive advantage influence the structure and direction of the management of your ERP system? (And, by extension, how would such a focus change priorities within an enterprise IT organization?)
A Framework for Prioritizing Enterprise IT Initiatives
My contention is that an IT team should prioritize initiatives that provide the greatest competitive advantage and value to the business — and offload responsibilities that do not. Case in point? Management of Infor LN.
Consider the following graphic: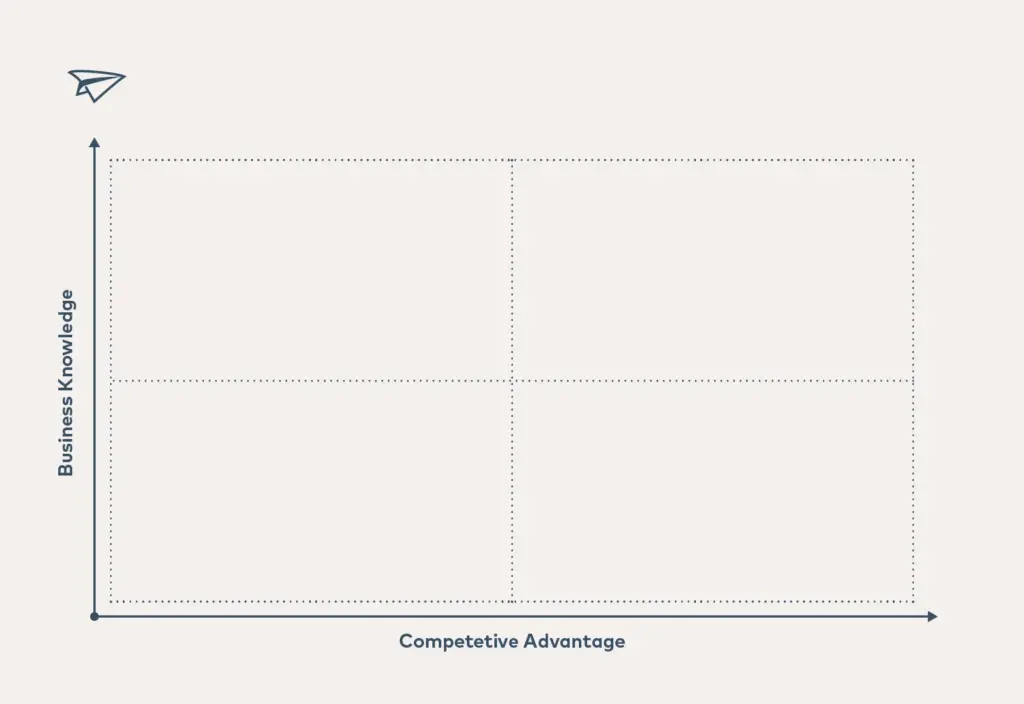 Using this chart, an IT organization can plot initiatives based on two key factors:
The amount of domain business knowledge (vertical axis) required to successfully complete or implement the initiative.
The amount of competitive advantage (horizontal axis) that the initiative will drive.
Depending on which quadrant initiatives fall into, your organization can get a clear indication of where the IT team should focus.
How to Prioritize Enterprise IT Initiatives to Drive Competitive Advantage
Effectively prioritizing your IT initiatives means understanding where they fall within this quadrant framework.
Quadrant I (Upper Right): High Competitive Advantage, High Business Knowledge Required
Quadrant I (upper right) is composed of initiatives that require a high level of business and industry knowledge and that drive a high degree of competitive advantage. Clearly, your information technology team should focus on these projects. The amount of domain business knowledge required means involving people who are already within and who understand the business. And the high potential for competitive advantage attests to the importance of the effort. Outside involvement within this quadrant, if any, should fill gaps in the existing team and bring highly specialized knowledge and capabilities.
Quadrant III (Lower Left): Low Competitive Advantage, Low Business Knowledge Required
At the other end of the spectrum is quadrant III (lower left). These initiatives require very little domain business knowledge and yield little competitive advantage in and of themselves. When organizations have initiatives in this quadrant that must be done, it only makes sense to fully delegate them to someone else to handle — because that frees up your team to focus on quadrant I. The projects and services in this quadrant lend themselves to outsourcing. After all, why would you ever impact the time and efforts of business-knowledgeable experts when you can just pay someone else to take care of things?
And what about the other quadrants?
Quadrant II (Upper Left): Low Competitive Advantage, High Business Knowledge Required
In quadrant II (upper left), initiatives require a great deal of business domain knowledge yet yield little competitive advantage. These initiatives should be examined and questioned. What's the rationale for doing this? Is there a different way to accomplish it? If an initiative should be pursued despite delivering less competitive advantage, what is the best way to do it without impacting our team of experts? Often, this also leads to an outsourcing question: "with whom can we partner to make these projects happen?"
Quadrant IV (Lower Right): High Competitive Advantage, Low Business Knowledge Required
In quadrant IV (lower right), projects require little in the way of domain business knowledge yet yield great competitive advantage. Businesses should absolutely pursue these projects. The question again becomes: "what's the best way to do so without impacting our team of experts?" Often, these initiatives are ripe for being handed off to a trusted partner that will get them done right and on time with minimal involvement from existing IT staff.
Gartner has consistently used the terms "Run," "Grow" and "Transform" in recent years to help IT leaders focus on what is important to their organizations and teams. If we layer those concepts over our understanding of these four quadrants, we can map specific approaches to different areas of the chart:
Where Does Managing Your Infor LN ERP System Fall?
Managing an ERP system like Infor LN falls squarely into the lower left quadrant. Yes, it requires deep expertise and understanding of the particular ERP system. But it does not require great knowledge of the business domain to keep the system running and to react to incidents. It does not even require great knowledge of the business domain to establish and extend reports or provide extensions to common functionality. Therefore, redirecting people at your organization who have been managing the ERP system to focus on things that provide more competitive advantage just makes sense.
By outsourcing ERP management, you are driving even greater competitive advantage.
Managed services and application managed services can take many forms, but it all comes down to paying another organization to take on projects and tasks that can free up your skilled, knowledgeable people to focus on things that bring greater competitive advantage. One of the key advantages of outsourcing such services to a trusted partner is that the partner can ultimately perform the services more efficiently and with higher quality — especially since internal team members are often trying to prioritize work in the upper right quadrant — but they continually get bogged down in work from the bottom left quadrant. This means that a partner can often do a better job (because it's their only job), save costs over the long run, and allow your organization to accomplish initiatives faster.
Strategically leveraging managed services can offer other advantages as well. Some financial benefits involve spending money on operational expenses (OPEX) rather than capital expenses (CAPEX).
Other managed services benefits are technical, having to do with the fact that a partner like Vervint manages many different clients, sees many different situations, and knows how to handle and prevent issues more efficiently. Similarly, a partner like Vervint has a breadth of personnel and experience not available to most companies. In other words, the partner that providing the services gains experience with other clients and brings that advantage to you. From a management perspective, it is easy to set clear, documented, specific goals for a managed service provider; then, you can let them do the work and meet those goals while IT leadership focuses on the initiatives in the upper right quadrant.
What's Your Next Step Toward Greater Competitive Advantage? Infor LN Managed Services.
To be absolutely clear, I am not suggesting that you should hire an outside firm to manage Infor LN and then terminate existing employees, who have incredibly valuable business domain knowledge. In fact, that's a sure-fire way to lose competitive advantage. Instead, I am suggesting that you hire an outside firm like Vervint to manage Infor LN.
Why?
As an IT leader, you need to focus your teams of talented, business knowledgeable technologists on initiatives that will improve your competitive advantage and that require their skills and capabilities. Using the quadrant framework above, you can quickly identify initiatives that you can fully offload to a trusted partner. Ready to start a conversation? Let's talk!