Thinking Differently About Clean Air
A connected experience can do more than connect people and products. Learn how Vervint helped Amway create a game-changing connected experience for customers, Amway business owners, and the organization.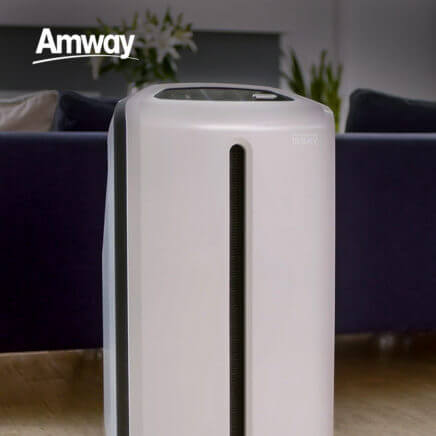 What We Did
When Amway sought to create a connected experience for its Atmosphere Sky Air Treatment System, they knew they needed a partner to help drive change. Vervint created a connected experience that was a game-changer for customers, Amway business owners, and the organization as a whole. From strategy and organizational governance to platform architecture and implementation, Vervint was on the connected experience journey with Amway every step of the way.
Organizational Governance
About Amway
Amway is an entrepreneur-led health and wellness company based in Ada, Michigan. It is committed to helping people live better, healthier lives across more than 100 markets worldwide. Amway products are sold exclusively by entrepreneurs who are known as Amway Business Owners. Amway is the No. 1 direct selling business in the world, according to the 2021 Direct Selling News Global 100.
Thinking Differently to Deliver a Connected Experience
Connected products can transform the way companies engage with their customers. When Amway chose Vervint to create the connected experience for its Atmosphere Sky Air Treatment System, they found that the right partner could also help transform their team.
Connecting with Customers
Amway's health and wellness offerings include air and water treatment products to improve home air and water quality. According to the U.S. EPA, home air quality can be up to five times as polluted as outdoor air. That's why the Amway Atmosphere air treatment system uses a three-stage filtration process that traps and removes various air contaminants. This high-tech product relies on two filters that need to be changed on schedule to ensure adequate air treatment.
To improve lives and gain visibility into the air we breathe, Amway sought to create a mobile app to communicate to customers in several ways:
Provide prompts to reorder filters, ensuring seamless operation of the Atmosphere Sky unit.
Deliver insights into how well each unit was functioning.
Report on the quality of the air in the customer's area.
A Catalyst for Change
Amway knew creating a connected product would be outside of the comfort zone of many, test processes that had been in place for decades, and force groups to work across silos. Vervint became not just a tech partner; they were a co-catalyst for change.
Vervint worked with Amway as a credible partner to validate the project, provide reassurance to leadership, and set the project on an agile development path.
Side-by-Side Every Step of the Way
Once Vervint was added to the ecosystem of partners, they launched a discovery phase, focusing on strategy and UI/UX development leading up to development. The development teams worked seamlessly to create a product that delivers increased value, reliability, and personalization through data utilization created on the AWS platform. Cross functional design and development teams meant solutions were vetted early on, increasing the speed to a solution.
Vervint's work with Amway helped set the stage for the company's further innovation in connected experiences.