Companies come and go. Digital platforms and products get retired. Lifetime warranties aren't what you think they are. But what do you do when a mission-critical platform or software or tool gets sunset?
In this article, we'll discuss common reasons that IoT platforms, in particular, get sunset and what you should do when you're left holding a ticking time bomb when a tool you rely on is getting shut down.
What Is Sunsetting?
"Sunsetting" is a pleasant euphemism for the much harsher reality of something — like software, products, platforms or even brands — being retired or terminated. In practice, it means that users no longer receive support for a tool or device, and if that product is connected to the internet, users will often end up losing access to it once the end-of-life (EOL) date is reached.
What Happens When a Product You Rely on Gets Sunset?
If you're lucky, you can keep a mission-critical platform on life support beyond EOL while you search for a replacement. That comes with a variety of increased risks, not the least of which is running something with known security vulnerabilities. And if you aren't lucky, you'll need to make a sharp pivot in your IT strategy to find a new solution before the clock runs out and the provider shuts everything down.
Why Do Companies Sunset IoT Platforms and Tools?
Many factors contribute to a business' decision to sunset something as important as a cloud IoT platform. Below is a brief overview of some of the most common reasons that companies sunset their products.
Sunset Cause: Mergers and Acquisitions
Companies merge and get acquired as markets evolve. This is especially true for organizations that offer niche services like IoT cloud platforms. A huge boom in IoT platform entrepreneurship occurred from 2015 to 2019. The number of public IoT platforms grew from 260 to 620 in that timeframe. However, in 2021, that number dropped to 613 despite the overall IoT market increasing. This suggests that a lot of consolidation is happening and will continue to happen in the coming years.
When a merger or acquisition happens, new ownership may choose to discontinue products that overlap in their portfolio or that are less profitable. Unfortunately, this sunsetting can leave organizations in a lurch, especially when those changes go into effect immediately.
Sunset Cause: Costs Don't Scale
As many organizations discover when they first implement third-party cloud services, costs can balloon quickly as usage scales up. The same is true for cloud providers themselves. This has been especially true in the unstable market environment of recent years with pandemic-related supply chain disruptions related to IT hardware as well as construction materials. From 2019 to 2021, 188 companies stopped operating in the IoT cloud platform space. Of those 188, 26% of them simply went out of business, while others pivoted to different services (like AI and security). Their customers were left searching for new solutions that would support mission-critical IoT services that they provide
Sunset Cause: Expertise Gaps
Internet-connected devices have exploded in variety and complexity, and that trend will only continue. Many startups and niche IoT cloud platform providers had a talent pool with expertise in data center management and cloud engineering, and they were capitalizing on the need for cloud computing that came with a surge in IoT devices and projects. And although cloud competencies are still crucial for the success of IoT initiatives, many cloud providers can't give their customers everything they need to thrive in an increasingly competitive market.
To innovate, launch and maintain multiple fleets and generations of IoT devices, you need capabilities that include:
And depending on the type of IoT solution you are providing as well as the unique situation you find yourself in, you may need additional expertise:
Businesses that have not been able to expand their offerings beyond cloud infrastructure and platforms have lost out on new business and have been forced to close their doors or get acquired by larger providers with broader capabilities.
Episode 43: Cost Optimization with Alex Tweedy
In this episode of Ten Thousand Feet, Data and Technology Leader and Architect Alex Tweedy shines a light on OST's new cost optimization offer.
Listen to the podcast
Sunset Cause: Competition
In the same way that niche IoT platform companies were able to pop up and differentiate themselves from bigger, slower-moving providers, many startups have seized the opportunity to truly specialize in IoT solutions. At the same time, major providers like AWS and Microsoft Azure have caught up and now offer incredibly robust cloud features geared toward IoT.
In a more competitive market, smaller players are forced to keep up or shut down. And when they shut down, their customers are left to pick up the pieces and find a new solution.
Examples of Major IoT Cloud Platform Retirements
Given the unique mix of disruption, instability and change in the IoT platform space, it's no surprise that so many IoT platform companies, both small and large, have walked away from the industry. Below are a few noteworthy examples.
Pachube / Cosm / Xively
Xively is a perfect illustration of the chaotic market dynamics in IoT. In 2007 Pachube was founded as an IoT infrastructure company. Four years later, LogMeIn acquired the company for $15m in 2011 and changed the name to Cosm. LogMeIn further developed the platform, rebranded it as Xively and launched it as a public cloud specifically for IoT in 2013. A few years later, in 2018, Google purchased Xively from LogMeIn for $50m and sunset the platform to integrate its features (and the team's expertise) into Google's own IoT services.
Are you dizzy yet? In Xively's case, mergers and acquisitions created accumulated value, but ultimately the platform was sunset and incorporated into Google Cloud Platform's IoT Core services.
Traeger Grills Migrates Off Xively to AWS With Vervint
Google Cloud Platform's IoT Core
In a deeply ironic twist, Google (yes, the same Google that purchased Xively) recently announced that Google Cloud will no longer support their primary IoT service (the IoT Core) after August 16, 2023.
Google's explicit recommendation for current Google Cloud Platform (GCP) IoT Core users is to find a new partner who can more effectively address the unique needs of IoT companies. According to a Google spokesperson, "since launching IoT Core, it has become clear that our customers' needs could be better served by our network of partners that specialize in IoT applications and services."
Here, we see other sunsetting factors at work. For example, Google's cloud services posted an $858 million loss in Q2 of 2022. Given that Google's recommendation to customers was to find specialized partners who focus on IoT, there may also be significant expertise gaps at Google in the IoT space. Or there could be increasing demands from customers for new IoT-related features and functionality that GCP simply can't deliver in a cost-effective way.
Whatever the reason, GCP customers are now left scrambling to find a new consulting partner for IoT platform migration and optimization services.
What Should You Do When Your IoT Platform Is Shutting Down? Migrate.
Before undertaking an IoT platform migration, a cloud assessment can help determine what the migration should look like based on your unique situation. With a thorough understanding of your current environment and your desired future state, you can build an implementation roadmap that will help you design your platform for long-term stability, growth, and scalability.
Below, we outline some common migration patterns that IoT companies leverage to move away from a platform that is being .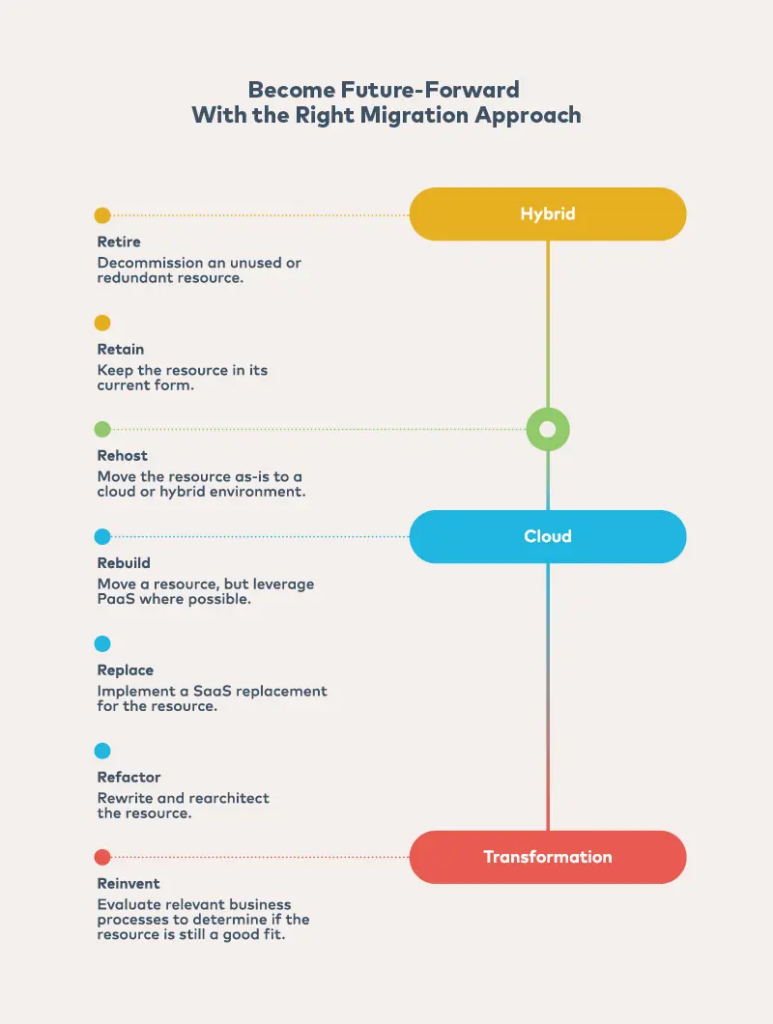 Retire (Decommission) Parts of Your IoT Platform
An impending migration can shed light on components in your platform that aren't working for your business or your customers (or just plain aren't working at all). In other cases, a new platform such as Amazon Web Services (AWS) or Microsoft Azure may have more robust IoT functionality built into their solutions, which means parts of your platform may have duplicate or redundant functionality. It typically makes more sense to retire that infrastructure instead of worrying about the time and money spent on the potential lift and maintenance of moving it to another cloud.
Pros
Remove costs of maintaining infrastructure
Cons
Retain
Many businesses have some IoT platform infrastructure that cannot be moved due to compliance concerns, security reasons or other factors. So what can you do in those situations? Retaining your infrastructure comes in a couple of flavors, such as a hybrid approach or an on-premise approach. The hybrid option speaks to maintaining some infrastructure on-premises and hosting other infrastructure on a cloud provider. An entirely on-premise cloud strategy would mean hosting everything in-house and thus assuming all the risks along with that.
Pros
Keeping things familiar
Zero costs to migrate
Cons
Struggle to maintain uptime
Higher and less predictable long-term maintenance costs
Rehost (Lift and Shift)
Imagine picking up your platform and placing everything as is onto a new cloud provider. That is essentially what rehosting is. Established platforms tend to choose the rehost method because they have well-developed infrastructure, user experiences and business cases that their platform supports. Rehosting is also usually done with platforms that are currently on-premises and are being moved to the cloud.
Pros
Speed of migration
Minimal downtime
Maintain familiarity in system architecture
Effective services integration
Cons
Less opportunity to modernize during migration
Reduced (or no) opportunity to take advantage of specialized cloud-native IoT microservices
Performance issues and other problems are often also migrated over
Rebuild or Replatform (Lift and Reshape)
Maybe you aren't ready for a full migration. Replatforming allows you to experiment and become familiar with a new cloud solution. Making small changes to your infrastructure can have significant positive impacts and build confidence. Moving a specific on-premise service to a cloud service can be a great starting point that allows you to learn, start saving on costs and take advantage of other cloud benefits without making a large investment right away.
Pros
Using new cloud services for optimization and cost savings
Cons
Need to carefully evaluate which services can and should be migrated (keeping downtime and business impact in mind)
Replace or Repurchase (Drop and Shop)
Commonly referred to as the "drop and shop" method, replacing your IoT platform involves leaving your existing platform or services behind and shopping for an entirely new implementation. Often, IoT companies will seek out software-as-a-service (SaaS) solutions when they do not have the in-house expertise to take advantage of other migration alternatives.
Pros
May discover a new solution with improved features or lower costs.
Cons
Unknown dependencies and incompatibilities can require significant investment to address
"Turn-key" solutions inevitably require customization and development
May face a sunset or acquisition again in the future
Refactor or Rewrite (Decouple)
The most aggressive IoT migration strategy is to redesign the entire system. Starting fresh may seem like a daunting task, but it's a great way to build new integrations and identify cost savings with different services offered by a new cloud provider.
Pros
Using new cloud services for optimization and cost savings
Cons
Heavier upfront investment for planning and architecting a new solution
Reinvent
As you face the deadline of a sunset-related migration, you're bound to look at the bigger picture of your business overall. You may begin to ask questions like:
How much value is IoT driving for our company?
Would we achieve greater ROI by allocating the cost of a migration elsewhere?
Are there innovative alternatives to a platform migration that could create more value for consumers and the business?
Strategic business consultants with an objective view of your situation can be a crucial asset during times like these. They can help you identify true opportunities, evaluate their ROI, quantitatively prioritize them, and build a roadmap for your best path forward.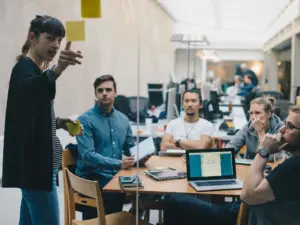 Detangling IoT Product Complexity: Why Roadmaps are Crucial for Organizational Understanding
Register Now
What to Look for in an IoT Platform Migration Consulting Partner
Most organizations will only need to migrate their IoT cloud platform once or maybe twice if they are particularly unlucky. For this reason, companies almost always seek outside help from IoT platform migration consultants.
While this may be your first migration, an IoT consulting partner like Vervint has helped dozens of companies through the process of implementing or migrating their IoT platform. When you are evaluating potential consultants, especially for IoT-related services, you will want to ask about their credentials in specific areas:
Certified Competencies
A lot of businesses offer cloud-related services, and they have certifications attesting to their credentials in that area. But you will want to go deeper than that when you are considering a partner for any work related to IoT.
After all, one of the main reasons that cloud providers keep backing out of the IoT space is because they simply don't have the expertise to keep up and address the needs of IoT companies.
At this point, the two most well-established cloud providers in the IoT space are AWS and Microsoft, and they have IoT-specific certifications for individuals, partners, or both. These are the types of credentials you will want to ensure that your migration partner has (in addition to other relevant competencies).
Proven Success in the IoT Space
Knowing how to do something is great, but certain things can only be learned by doing them. When you're looking for a consulting partner, make sure they have a history of success in IoT platform implementations, migrations, optimizations, and management.
Potential Opportunities for Funding Part of Your Migration
In some cases, partners can also save you money directly. Cloud providers know that platform migrations are a major investment. They know that a good partnership can mean the difference between failing and thriving. And they know that the better your business does, the more invested you'll be with their cloud infrastructure.
So, many cloud providers have created funding programs to help with the costs of implementation or migration. In most cases, available funding is based on the recurring revenue estimate that your partner provides. Things like growth rate over time, message rates, expected traffic and cloud service invocation (just to name a few) are all factors that contribute to the recurring revenue you will create for a cloud provider.
Note: if a partner guarantees you'll get funding, it's time to look elsewhere. There are no guarantees when it comes to funding for your cloud migration projects, and funding requirements and availability are continuously changing. But Vervint On investigate what funding opportunities are available to you for your project and help you apply for them if you are eligible.
When it comes to funding, Vervint is uniquely positioned to work with you and AWS or Azure on your next IoT platform migration. Both providers have a variety of partner-related funding opportunities that you may qualify for if you are implementing or migrating your IoT platform. There are opportunities based on consumption rates, industries, partner levels and many other factors.
Vervint: IoT Cloud Platform Migration Experts
That was a lot of information about why companies sunset their products and what you can do when your IoT platform is no longer supported. If you didn't read it all, we don't blame you. But here's a tip: you can just send us a message and one of our experts will get in touch with you to discuss your specific situation. We look forward to hearing from you!